Justin Tao Proposed Lean Consumption Process to Reduce Customer's Wastes at 2015 New Energy Vehicles Summit
点击数:3,020 次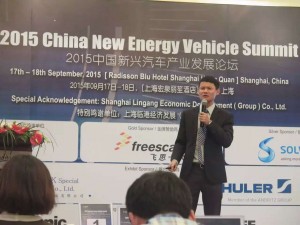 2015 New Energy Vehicles Summit, hosted by Lingang Group and organized by Lnoppen Group, was held on September 17th – 18th, 2015 at Radisson Blu Hotel Shanghai Hong Quan. The summit served as an international platform for domestic and foreign government officers, industry associations, vehicle manufacturers, system integrators and technology suppliers to discuss green energy conservation and new energy automobile development strategies, information and intelligent development trends. TXM China Consulting Director, Justin Tao was invited to present "How to Apply Lean for NEV Whole Value Stream" on site.
Justin came up with the challenges of NEV supply chain might meet with, such as reliability, user friendly or not, prices comparing of petrol vehicles, choices of products, charging infrastructure and standard, etc. In this case, Justin introduced the Lean Thinking and the concepts of Value Stream Mapping. Lean doesn't mean "Mean", or downsizing, or outsourcing, or working harder. Lean is to optimize value creation by eliminating waste.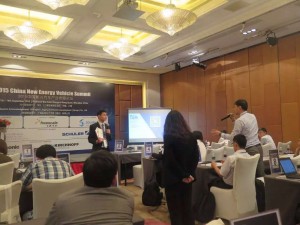 Here comes a question: how to apply lean thinking to new energy vehicle industry? Justin emphasized that in the difference with the traditional process, the whole value stream should incorporate both Lean Provision and Lean Consumption.
Provision, including design, supplier management, production and delivery, is a series of actions manufacturers must perform in the proper sequence to create value for customers. To realize lean provision, Five Lean Principles need to be considered. That is, firstly, understand what is VALUE under the customer point of view. Secondly, analyze the VALUE STREAM and remove the waste. Thirdly, make the value FLOW through the value stream. Fourthly, in the way that customers can PULL what they want. Fifth, continuous improvement toward PERFECTION.
In the contrast, consumption are series of actions consumers must perform in the proper sequence to obtain the value they seek. So enterprises need to learn to see all the steps the consumer must perform, including awareness of need, research, selection, order and purchase, delivery, payment, installation, integration, service, repairs and maintenance, upgrade and disposal. If NEW industry want to become successful, they must solve the problems for customers such as installing chargers, finding chargers and getting vehicles charged shortly. To achieve the Lean consumption process, there are six principles:
Solve the consumer's problem completely
Don't waste the consumer's (or the provider's) time
Provide exactly what the consumer wants
Deliver it where it's wanted
Supply it when it's wanted
Continually reduce the consumer's time and hassle in solving their problems
In summary, Justin concluded that Lean Thinking gets enterprises to rethink their entire business process. Applying lean to NEV industry will bring continuous improvement and enhance the competitiveness of China NEV in the world market. Justin's speech struck a chord with the audience on site. Justin also delivered the books translated by himseld to the attendees: Lean Solutions – How Companies and Customers Can Create Value and Wealth Together.
If you would like to learn more about lean whole value stream, please contact TXM lean consultants.